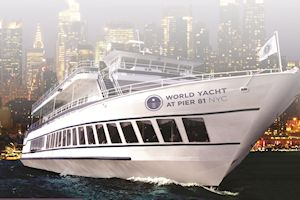 The Romanian-American Chamber of Commerce and
European-American Chamber of Commerce
cordially invites you to attend

Thursday, September 29, 2016 6:00PM -9:00PM World Yacht at Pier 81, New York

The European-American Chambers of Commerce in New York and Romanian American Chamber of Commerce gather their members for a dynamic evening exclusive networking and classy views. More than 350 international professionals are expected to come together for a fantastic evening on the Hudson. Join us at this Manhattan boat cruise for dinner buffet, an open bar, and mingling with international executives!

ADMISSION:
Members: $80 (applies to members of any of the European-American chambers)
(If applicable, please name chamber)
Non-members/ guests: $120

REGISTRATION: to RACCNYC@GMAIL.COM
Space is limited, RSVP is required. Please note: Registration begins at 5:45 PM. The boat will leave the dock at 6:30 PM sharp. Contact for clarifications, questions or support
Eliax Wexler: raccnyc@gmail.com | T: 718-401-4006 | C: 914-536-0000

Refund policy:
Unfortunately, cancellations cannot be refunded for this event. Thank you for your understanding.

This event is hosted by the European-American Chamber of Commerce in the United States, Inc. including the European bi-national chambers of Austria, Belgium, Britain, Finland, France, Germany, Greece, Ireland, Italy, Luxembourg, Portugal, Romania, Spain, Sweden and Switzerland.